Our current flagship project is the GM Ringway, the new long-distance walking trail for Greater Manchester. Green in every way, each of the 20 stages of the varied and beautiful 300-km route has been designed to be accessed by public transport. It will form a key element of the city-region's green infrastructure and has been endorsed by walking and cycling commissioner, Chris Boardman on behalf of the Greater Manchester Combined Authority.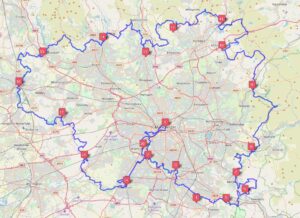 Greater Manchester Combined Authority supports the aim of establishing the GM Ringway as a long-term 'official' walking trail for Greater Manchester. As people become more used to the delights of moving around our city-region on foot and by bike, the GM Ringway will complement Greater Manchester's network of greenways. I wholeheartedly endorse the creation of the GM Ringway and look forward to it becoming a popular leisure activity across Greater Manchester.
Chris Boardman MBE, Cycling and Walking Commissioner for Greater Manchester
We are now working with the countryside charity, CPRE, on a large-scale funding bid for the GM Ringway trail and also co-operating on other greenbelt-related activities across the Northwest.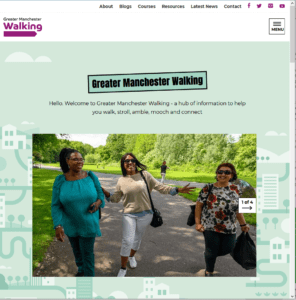 In addition, we have a close relationship with GM Moving, a national pilot funded by Sport England and Greater Manchester Combined Authority to increase physical activity across the city region. Recently, for example, we were commissioned to work with their team on the GM Walking website. As well as being involved in the overall website design, we also identified and refined content, including more than 200 walking routes and tens of walking groups around Greater Manchester.
Another regular collaborator is Freshwalks, which offers walks of all grades to business people and others. With a devoted and growing membership community, Freshwalks allows participants to network, to recharge, and to share business or personal challenges — all with the bonus of keeping fit. The director of Walking Projects Plus, Dr Andrew Read, regularly leads Freshwalks groups on sections of the GM Ringway trail.
Several other exciting developments are underway, including a joint project with walking app developer Go Jauntly to promote short walking routes in areas of Greater Manchester that face social and health challenges. This will include accessible routes for wheelchair-users and families with young children.
We have also been asked to work with the GM and High Peak Area of the Ramblers on community involvement and events in two target areas of Manchester and Salford.
Finally, we are in early-stage conversations with some of the GM local authorities and other city-regions across the North of England about a range of other projects.